DuraClip®
Hemostasis Clips
Greater Compression Force1
Precise Positioning
• Achieve accurate and precise rotation of clip
• Flexible distal end enables rotation over ERCP scope elevator
• Accommodates insertion and rotation in retroflexed scope
Easy Deployment
• Design enables simple one or two handle clip deployment
• Unique, small post-deployed clip base improves field of view
• Tactile and audible response confirm deployment
DuraClip® is available in 11mm and 16mm jaw width.


DuraClip® offers greater compression force than the leading competitor.

And, DuraClip® is STILL one of the smallest clips on the market.
Up to 60% shorter post-deployed stem than Boston Res 3601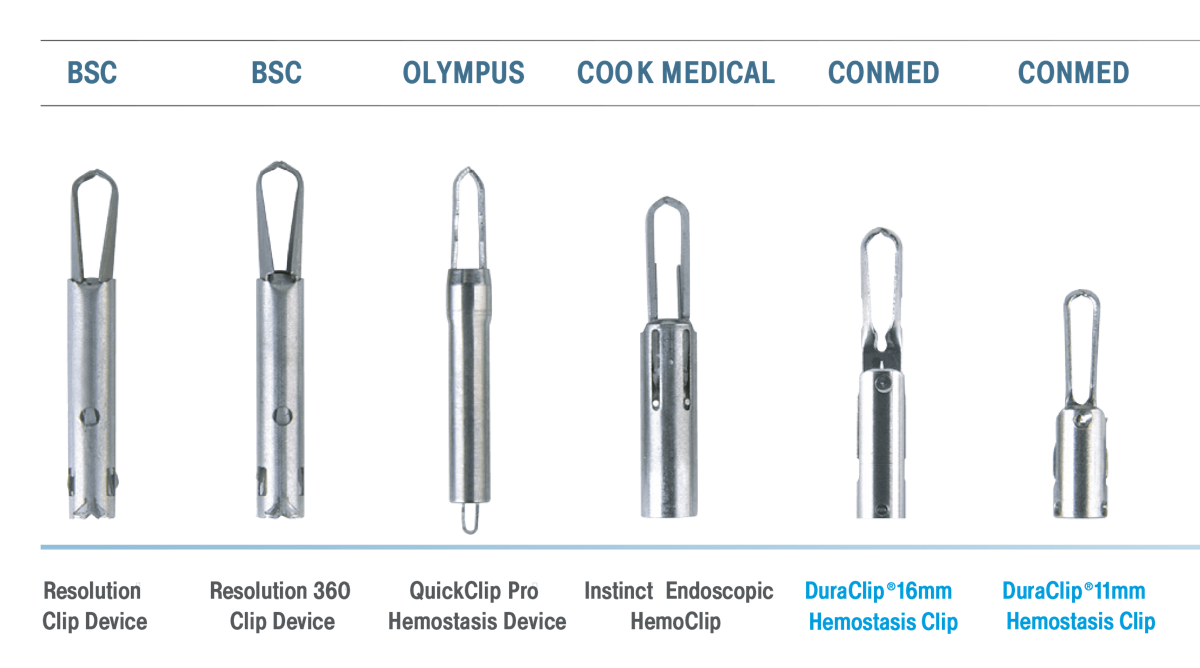 1 When comparing DuraClip® 11mm to Boston Scientific Revolution 360. Data on file, PDD2324060 .
Documents and Specifications
Hemostasis
DuraClip® Hemostasis Clip for Gastroscope
| | |
| --- | --- |
| CAT # | DC0165 |
| Sheath Length | 165cm |
| Min Channel Diameter | 2.8mm |
| Jaw Opening | 11mm |
| Purchasing Unit of Measure | Qty 10/Box |
DuraClip® Hemostasis Clip for Colonoscope
| | |
| --- | --- |
| CAT # | DC0235 |
| Sheath Length | 235cm |
| Min Channel Diameter | 2.8mm |
| Jaw Opening | 11mm |
| Purchasing Unit of Measure | Qty 10/Box |
DuraClip® Hemostasis Clip for Colonoscope
| | |
| --- | --- |
| CAT # | DC0235W |
| Sheath Length | 235cm |
| Min Channel Diameter | 2.8mm |
| Jaw Opening | 16mm |
| Purchasing Unit of Measure | Qty 10/Box |